Our Mission:
To identify, develop, and coordinate resources, policies, programs and services that support and empower all residents of Maplewood and South Orange to age in place as full members of the community.
NJ Department of Health Commissioner Judith Peresichilli Releases Statement on COVID-19 Booster Vaccines
The action by the Centers for Disease Control and Prevention (CDC) provides for the administration of booster doses of the Pfizer COVID-19 vaccine at least six months after completion of the primary series to help increase protection for the following:
people 65 years and older and residents in long-term care settings should receive a booster shot;  

people age 50–64 years with underlying medical conditions should receive a booster shot;
people age 18–49 years with underlying medical conditions may receive a booster shot, based on their individual benefits and risks, and

people aged 18-64 years who are at increased risk for COVID-19 exposure and transmission because of occupational or institutional settings, including healthcare workers, may receive a booster shot, based on their individual benefits and risks.
The New Jersey Department of Health is directing our vaccination partners in the state to begin administering booster doses to eligible individuals immediately. Individuals will self-identify according to the categories above and will not be required by vaccination providers to provide proof of a medical condition or a note from a medical provider in order to receive a booster dose in New Jersey.
There are over 1,600 vaccination sites across New Jersey – more than 1,000 of which offer the Pfizer vaccine – and the Department of Health continues to work to add additional sites. Many sites have walk-in availability and extended hours. To find a vaccination site and book an appointment online, visit covid19.nj.gov/finder or call the state's Vaccine Call Center at 1-855-568-0545.
Our efforts also include homebound individuals. Individuals who received Pfizer can reach out directly to their local health department or complete the intake form available at //covid19.nj.gov/homeboundvax. For assistance completing the survey by phone, please contact the call center.
People who received the Moderna or Johnson & Johnson vaccine are not yet eligible for the booster shots authorized by the federal government.
Hurricane Ida Information
NJ 211 plays an important role when disaster hits our area. They communicate information and resources to the public in response to the storm. The information below is from their website. https://www.nj211.org/tropical-storm-ida
Crisis Cleanup
If you experienced flood damage and need assistance with clean up, register for Crisis Cleanup by calling 844-965-1386. For more information view a flyer (English) (Spanish).
Documenting your Flood Damage
Before removing flood-damaged items from your home, policyholders should be sure to take the following steps:
Take photos and videos.

Record serial numbers.

Keep receipts.

Retain all material samples.

Contact repair services.
Report Damage
The New Jersey Office of Emergency Management has launched a data collection portal to gather data from impacted individuals in Essex County where FEMA has declared the Major Disaster Declaration. Individuals can fill out the Damage Report Form to report damage to your home in the aftermath of a significant weather event or disaster (residential structures only, no vehicles). Information collected here will help local, state, and federal authorities better understand the location and severity of damage impacts.
FEMA Assistance
FEMA has declared that residents of Essex county can now apply for direct assistance for Ida-related recovery. Assistance may include home repairs, temporary housing, low-cost loans, and other programs to help recover from the effects of the tropical storm.
Apply online through FEMA's website, by downloading the FEMA App on the Apple App Store or the Google Play Store, or by calling 800-621-3362 (TTY: 800-462-7585). The toll-free telephone lines operate from 7 a.m. to 11 p.m., seven days a week.
To apply for FEMA assistance, visit https://www.disasterassistance.gov/
For more information, visit their website at https://www.nj211.org/tropical-storm-ida
For a link to the Governor's Office information, visit https://www.nj.gov/ida/
Transportation
Governor Murphy announced a partnership with Uber and Lyft to provide free and discounted rides to NJ residents who lost a personal vehicle due to Hurricane Ida. If you need a ride to an essential service, text NJIDARIDE to 898-211 or dial 2-1-1.
SOMA Two Towns Transportation
If you are 60+, live in South Orange or Maplewood, and require assistance with accessing rides for employment, food, prescriptions, local medical appointments, please visit the Transportation tab on this website for more information.
NEWS AND UPDATES
SUBSCRIBE!
To sign up for eblasts of the monthly community calendar of events and news for residents 60+, please go to http://southorange.org/list.aspx and choose the "Senior Citizen Community Calendar/SOMA Two Towns For All Ages". To sign up for our newsletter, please go to the Publications link on this site and scroll to the bottom to subscribe.
October-November 2021 newsletter is now available on our publications page.
SAVE THESE DATES
SATURDAY, OCTOBER 16, 1-4 PM @ the Maplewood Senior Center, 106 Burnett Avenue, Maplewood. To register to have an item repaired for free, please e-mail [email protected] with the subject Repair Cafe. You can also call us at 973-558-0863 to schedule a time. If you would like to share your skills as a repairer with us or volunteer to help out with the event, please contact us at the number and e-mail above. Drop-ins will be taken if slots are available. Call SOMA Two Towns at 973-558-0863 if you have any questions.
VOLUNTEER FAIR: SATURDAY, NOVEMBER 13TH 1-4 PM AT THE WOODLAND, MAPLEWOOD. More information to come.
SOMA Two Towns for All Ages is a proud member of the
AARP Network of Livable Communities.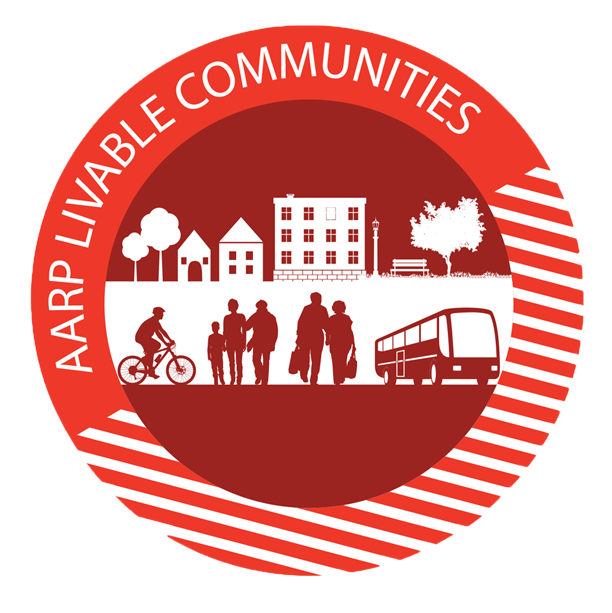 Support
SOMA Two Towns for All Ages is supported through the generosity of The Grotta Fund for Senior Care and under the auspices of the Township of Maplewood and Village of South Orange.